Surgeon of the month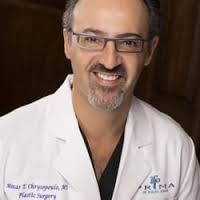 Dr. Minas Chrysopoulo
San Antnio Tx, USA
Dr. Minas Chrysopoulo (or "Dr. C") is a board-certified plastic surgeon, breast reconstruction surgeon and microsurgeon at PRMA Plastic Surgery. He was educated at the University College London Medical School, the University of Texas Health Science Center, and the University of Wisconsin. In addition to plastic surgery training, he completed fellowship training in burn research, hand surgery, and microsurgery.
Dr. C is certified by the American Board of Plastic Surgery, and is also an active member in the American Society of Plastic Surgeons (ASPS), the American Society for Reconstructive Microsurgery, the Plastic Surgery Education Foundation, the Texas Society of Plastic Surgeons, and the San Antonio International Society of Plastic and Reconstructive Surgery
Dr. C's areas of special interest include state-of-the art breast reconstruction techniques, short scar breast surgery, cosmetic surgery of the breast and body, and scar healing. He is also Chief Science Officer of C&H Scientific, Inc, makers of the scar treatment InviCible.
Dedicating his professional life to advocating for breast cancer patients, Dr. C strongly believes that shared decision making between the physician and patient is crucial in achieving the best results and has built his practice on this philosophy.